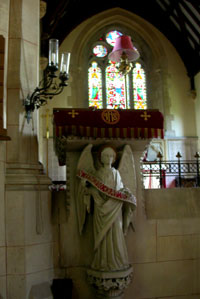 eNews
To be sure that you do not miss out on any news or events why not sign up to get important information from Storridge Church by email?
NEWS SHEET
The parish news sheet is produced every week and contains details of forth-coming services, events and meetings along with other notices that may be of interest to those who live in the parish or wider benefice.
A digital (.pdf) version of the parish news sheet (also known as the 'pew sheet') of the current news sheet is available here.
AN APRIL LETTER FROM THE RECTOR
EASTER THEN AND NOW?

Many an Easter celebration begins, you may know, in the darkness before the dawn of Easter Day. In some places it's at midnight, in others it's just before day-break. Up on the Worcester Beacon it's at sunrise. The darkness of that night is heavy with the commemorations of the previous days - Judas' kiss betraying Jesus at Gethsemane; his arrest and overnight trial; his mother, his closest friends, Mary Magdalene and the other women, standing at the foot of the cross the following morning.

The Easter story takes us from the experience of grieving at the foot of the cross to the bewilderment, disorientation and eventual breaking joy of the first Easter morning, reflected in the confusion of stories around the discovery of the empty tomb, and of angels and of messengers, frequently not believed. A wide range of human emotions and experiences is there, picked up in this story, and in the end we are left the poorer if we allow it all to be reduced only to Easter bunnies and chocolate eggs - though of course, at Easter, there's plenty of room for them as well!

Many of us know how hard it is in the first shock of loss to see very far beyond. What the Easter story seeks to convey is that in the face of all, and against all expectation, love goes on. The love of those who stand in solidarity with one another, like those at the foot of the cross. The love which continues to hold us and sustain us in being; which will come again, sooner or later, revisit us and raise us up. Whilst the Easter story in its simplest form is the story of the Resurrection of Christ, what it speaks about at a deeper level is a pattern of human experience common perhaps to us all. Hence the triumphal shout at the heart of the worship in many a church Sunday by Sunday, each Sunday a mini Easter Day:

CHRIST HAS DIED. - CHRIST IS RISEN. - CHRIST WILL COME AGAIN.

Wishing you every blessing this Easter-tide.


Your Rector,
Robert Ward